PLM ZZr 50
I came across a Chinese vendor on eBay selling 1:87 H0 Atlas Editions French Autorail models at a reasonable price (£15-£20 inclusive of postage). Several of these autorails were for metre gauge lines or short wheelbase standard gauge units. Having bought one to see what it was like I was hooked and now have half a dozen different models! I decided that I would attempt to motorise these units as though they had been purchased to run on 70cm narrow gauge as H0e models. My first model to be completed is the PLM ZZr 50 which was a standard gauge unit before the 'butchery' took place.
The body is easily disassembled as it is held together with screws.
This unit was a twin axle prototype but I have chosen to make it as a bo-bo unit using a Tomytec TM-10 16m chassis obtained from Deputi Japan via Amazon for £18.50 inclusive of postage. Currently this chassis seems to be in short supply and Amazon are listing it at £62.11! A ridiculous price in my opinion! The original metal chassis of the autorail was severely 'Dremelled' to permit the Tomytec unit to fit above the chassis plate as fitting it below made the model appear too tall for a narrow gauge vehicle in my opinion.
Fitting the motor unit above the chassis plate meant that the original interior could not be easily refitted and so I decided to make and fit a dummy interior made out of Slater's Plastikard which fits just below the window line. This leaves sufficient room to easily fit a DCC decoder.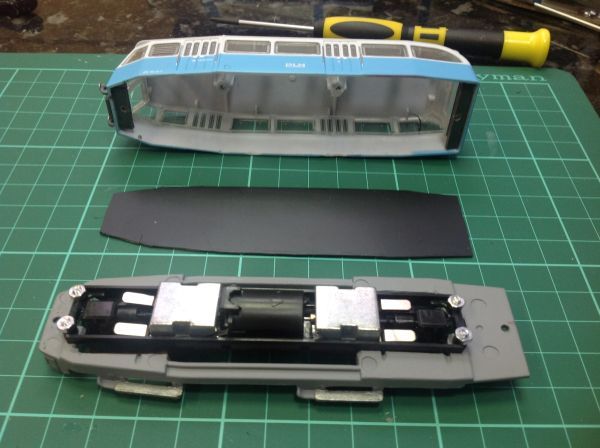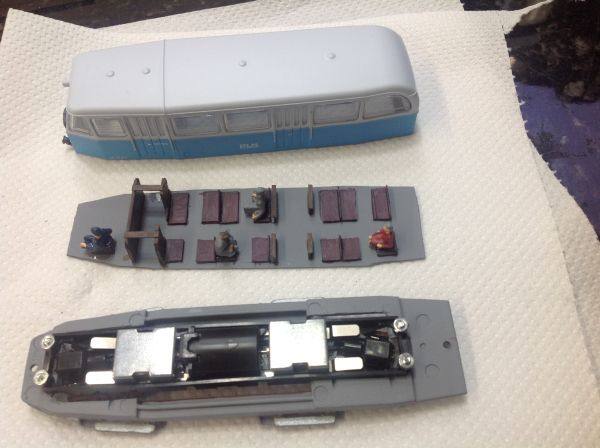 The body was refitted to the chassis by gluing two 'L' shaped ABS brackets at either end and then tapping them for 2mm screws. A Greenwich coupler was modified using a solder tag so that it could be fitted using the rear body securing screw.
The chassis was primed using Halfords grey primer and then it and the Tomytec unit were painted in 'red lead' using Vallejo acrylic paints. A Greenwich coupler was modified using a solder tag so that it could be fitted using the rear body securing screw.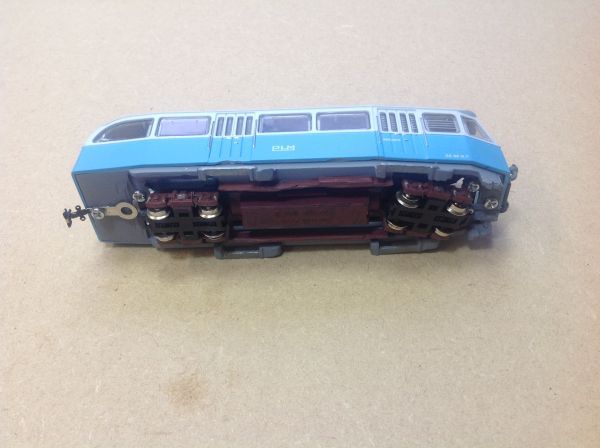 The model runs well at slow speed and can tow 2-3 coaches if required. I have now bought several more Tomytec motor units in a selection of sizes, (16, 17 & 20m) to motorise my other Atlas edition models and also a couple of Bullant drives and trailing bogies for use on the autorails too long for the Tomytec units. So there you have my first autorail conversion. I am finally on my way to re-discovering H0e modelling again. It's a small start for me but at least the 'missus' can see some return for the £1000's I have invested in my retirement hobby this last 12 months!