I wanted to make a portable lighting rig that I could use for either my 12ft Die Keinnamebahn layout or a smaller 6ft layout. I have decided that I would use a 4m professional lighting truss which is assembled from 1m sections that can fit into my estate car. I did not want to use tripods because of that he extra space required for the legs. I then remembered I had some Faithfull ceiling supports from my filming days where I used them between ceiling and floor to hold clamped on filming lights. This allowed me to get lights tight into the corners of a room. For this lighting rig clamps will be fitted to the sides of the transit cases so that they act as the anchors at the exhibition.
I was able to buy a second hand set of three 1m R-100 trusses and then a new one from Simply Sound & alighting of Diss along with brackets etc to fit my ceiling supports. They gave a very fast service and even allowed me to haggle a small  discount.
The 50w LED waterproof floodlights will fit within the truss so that they are protected from handling damage.
This is a quick test assembly I did today using just a single truss. The truss can be raised to about 10ft, the poles having ratchets to secure them. The Faithfull ceiling supports are about 40 UK Pounds a pair, the trusses 34 Pounds each. The lamps (4 of them) about 20 Pounds with plugs, sockets and junction boxes, cable adding about another 30 Pounds.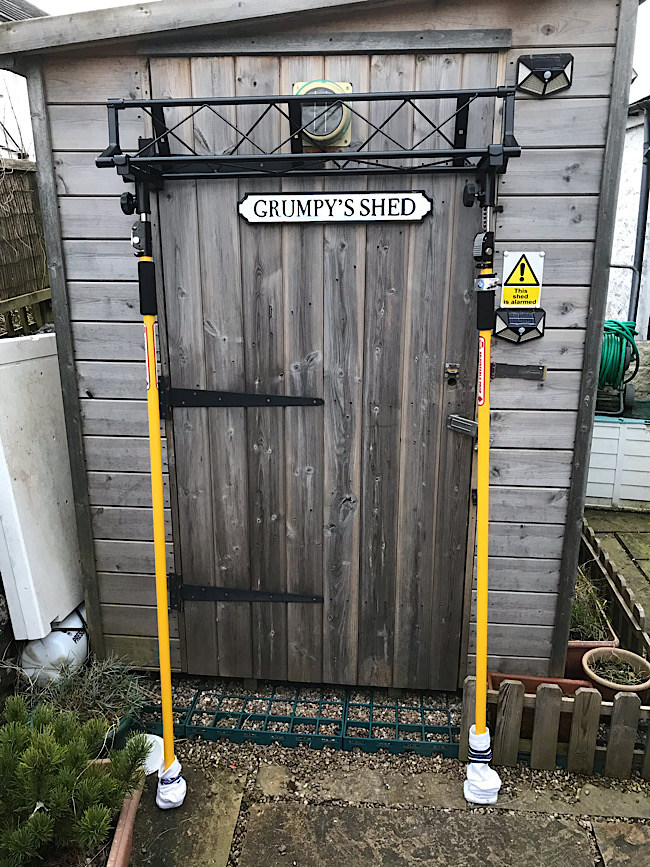 And before anyone thinks I am posh by putting socks on the pole bases, that is how I used them when filming to protect carpets, floors and white ceilings from black rubber feet marks! I just forgot to take them off for the photo!
Addendum
The 4m lighting truss is now fully wired with the 50w LED lighting units and PAT tested.